TCNJ's Department of Music was thrilled to celebrate our 100th Anniversary during Alumni Weekend in spring 2018 with many of our alums, students, faculty, and faculty emeriti. Please join us again on campus this fall for exciting concerts that will continue our celebration and look to the future of the next 100 years of Music at TCNJ!
Commemorate 100 years of music at The College of New Jersey with a gift today. Your contribution will help strengthen scholarships and programmatic support, which will support current and future music majors and ensure that we will continue to attract talented students to make our programs as robust and diverse as possible. Click here to donate.
TCNJ Chorale presents Andrea Clearfield's Cantata Tse Go La with the Princeton Girlchoir
Saturday, October 20
Mildred & Ernest E. Mayo Concert Hall
Pre-concert lecture: 7:00 pm
Performance: 8:00 pm
TCNJ's Chorale will be joining forces with the Princeton Girlchoir and an orchestra of faculty, students, alumni, and other professional colleagues to perform Andrea Clearfield's Cantata Tse Go La. Tse Go La is inspired by the composer's treks to the restricted and remote Himalayan region of Lo Monthang, Nepal, to study and document indigenous Tibetan music. Katey Blumenthal and Andrea Clearfield recorded over 130 songs that had not been previously documented. Their fieldwork is part of the World Oral Literature Project at the University of Cambridge. Dr. Clearfield will also present a pre-concert lecture.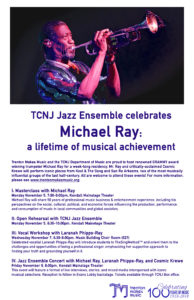 TCNJ Jazz Ensemble Celebrates Michael Ray: A Lifetime of Musical Achievement
Friday, November 9 at 8:00 pm
Kendall Hall Mainstage Theater
Trenton native and international trumpet artist Michael Ray joins the TCNJ Jazz Ensemble in concert. A long-time member of Kool and the Gang and The Sun Ra Arkesta, Mr. Ray will lead the students on a "cosmic" adventure, joined by his band "The Cosmic Krewe" and singer Laranah Philips.  This performance is co-sponsored by Trenton Makes Music.
TCNJ Orchestra presents Beethoven's Symphony No. 7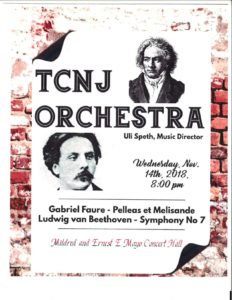 Wednesday, November 14 at 8:00 pm
Mildred & Ernest E. Mayo Concert Hall
TCNJ's Orchestra is bringing together students and alumni to join forces in Beethoven's monumental Symphony No. 7 as the concert's featured performance. Also planned is a selection from Gabriel Faure's Pelleas et Melisande.
TCNJ Wind Ensemble presents "Remembrance," including the world premiere of a fanfare by Sally Lamb McCune celebrating 100 years of music at TCNJ, along with music from the year 1918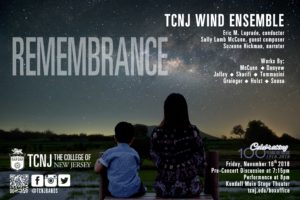 Friday, November 16 at 8:00 pm
Kendall Hall Mainstage Theater

TCNJ Wind Ensemble's performance includes the world premiere of a fanfare by Sally Lamb McCune celebrating 100 years of music at TCNJ. The concert will also highlight music from the year 1918 and include additional works by Steve Danyew, Jennifer Jolley, Jamshied Sharifi, Gustav Holst, and Percy Grainger.
TCNJ Concert Band presents "Altered States"
Thursday, December 6 at 8:00 pm
Kendall Hall Mainstage Theater
2018 marks the 100th birthday celebration of composer, conductor, and educator, Leonard Bernstein. In honor of both Bernstein and the Music Department's 100th anniversary, the concert band will perform a suite of Bernstein miniatures—Danzon from the ballet Fancy Free, Simple Song from the composer's Mass, and Mambo from the iconic musical, West Side Story. Additional works by Jodie Blackshaw, Gustav Holst, and Norman Dello Joio.
Click here for a full calendar of Department of Music events.
---
Tickets may also be purchased at the Brower Student Center Box Office during regular hours of operation: Monday – Friday, 5:00PM – 9:00PM and Tuesdays & Fridays, 11:30AM – 1:30PM
Continue the celebration of 100 years with a gift in support of the Music program. Details on our upcoming crowdfunding project will be forthcoming!