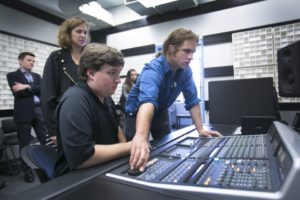 Faculty
Teresa Marrin Nakra
Coordinator of Music Technology
Quinn Collins
Music Technology
Mark Kalinowski
Music Technology
Music Technology is an interdisciplinary field that encompasses interrelated practices, including composition for media, studio recording, audio production, interactive music systems, and signal processing. Thus, at TCNJ, Music Technology bridges two departments in our innovative School of the Arts and Communication: the Department of Music and Department of Interactive Multimedia. Our undergraduate offerings prepare students for jobs in the music technology field or to pursue graduate education at top graduate programs, including University of Southern California, New York University, Georgia Tech, University of Westminster, and University of Michigan. TCNJ alumni compose professionally for film, television, and video games; they work in recording studios and professional theaters; they write code and design algorithms for musical collaboration, recommendation, interaction, education, and expression.
Bachelor of Music majors at TCNJ (Music Education, Performance) are required to take one Music Technology course, and Bachelor of Arts in Music as well as majors in fields across campus may choose to take elective courses in Music Technology to complement their interests and deepen their skills. Music Technology courses that are regularly offered are:
Electronic Music (MUS345 / IMM250)
Audio Recording and Production (MUS337 / IMM251)
Scoring for Interactive Media (IMM270 / MUS270)
Audio Signal Processing (MUS335 / IMM351)
Interactive Music Programming (MUS336 / IMM350)
Independent Study projects (IMM391 / MUS391)
rotating Special Topics courses
IMM for-credit internships with music companies and recording studios
TCNJ is also home to a state-of-the-art Recording Studio in the Art & Interactive Multimedia Building (AIMM room 235): see a recent story on ABC TV news. Some of the ways TCNJ students use the Recording Studio facility outside of classes include:
attending open studio nights on Mondays and Tuesdays, available to all TCNJ students
joining the Association for Music Production & Discussion (https://www.facebook.com/tcnjampd/), a recognized TCNJ student organization that sponsors studio time
requesting session time for a class or curricular project by emailing Teresa Nakra at nakra@tcnj.edu
applying for the audio tech job through TCNJ's Office of Student Employment
attending our occasional Sound Thinking workshops with experts in audio production
Come create and innovate with us!