Ensemble auditions are held during the first week of the Fall and/or Spring semesters. Specific information about auditions/enrollment in each ensemble will be posted in advance.
TCNJ Bands:
Wind Ensemble and Concert Band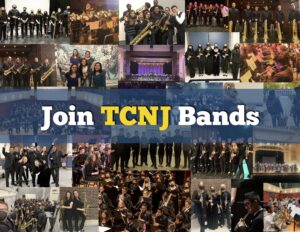 CLICK HERE FOR FALL 2022 BANDS AUDITION INFO & SIGN-UP 
CLICK HERE FOR FALL 2022 WIND ENSEMBLE AUDITION EXCERPTS 
---
TCNJ Choirs
Chorale, Collegium Musicum or College Choir
Auditions for the fall semester 2021 (TBD) in Music Building 027.

CLICK HERE TO SIGN-UP FOR AN AUDITION

You do not have to be music major to be in any of the choral ensembles.
You must audition to be considered for the Chorale or Collegium Musicum.
There is no audition required for College Choir. Basic singing and music reading skills and a desire to learn and improve as a musician are required.

All Freshman Music Majors should plan to audition. All Music Performance and Music Education majors are required to participate in a large choral ensemble at least two semesters during their career at TCNJ.

What to Prepare:

Auditions for the Chorale and Collegium Musicum:

A simple song a cappella, such as the National Anthem, Danny Boy, Amazing Grace, etc.
Vocalizing (scales) for range
Rhythmic and melodic sight reading

Please arrive 5 minutes early to fill-out an audition form.

For further information, please contact Dr. John Leonard, TCNJ Director of Choral Activities
---
TCNJ Jazz Ensemble
Auditions for the fall 2022 Jazz Ensemble begin with an OPEN REHEARSAL on Tuesday, August 30, 3:30-4:50pm, Music Building room 019 (basement). Bring your instrument(s) and be ready to play – this will be a full rehearsal with all students participating.
Jazz Ensemble is an inclusive ensemble for all qualified students. However,  when there is an overabundance of candidates for a particular instrument or section, competitive auditions are necessary. You will be notified on August 31 if you must participate in this audition.
Click here for details of the audition, to be held on September 2, beginning at 3:30pm (auditions only for those who have been notified on August 31)
Trumpet, Trombone and Saxophone
Choose and prepare a 1-2 minute piece that best demonstrates your abilities – preferably but not exclusively a jazz piece. If you don't have a piece in mind, you can use a section from a piece you performed with one of your former high school groups.
A short piece distributed ahead of time (2 days), for you to prepare
A short piece of sight reading
Optional: play 2 choruses of the Blues in concert F or Bb
Saxophonists may audition on the instrument of their choice (although you may ultimately be assigned to a different instrument, in which case there will be an instrument for you to use)
Piano, Bass, Guitar, Vibraphone
Choose and prepare a 1-3 minute piece that best demonstrates your abilities – We recommend picking a tune that you know well, play the melody and 1-3 choruses of improvisation or simple accompaniment.
You will be asked to create an accompaniment from a lead-sheet which will be provided at the audition (nothing too complicated or too fast).
Drums (percussion)
You will be asked to play a series of alternating sequences of the following rhythms:
Swing: medium, fast
Shuffle
Latin: Bossa Nova, Samba and/or Afro-Cuban
Contemporary: Hip Hop, Funk, Jazz Fusion, Jazz Rock.
Email the director, Professor Fienberg, with questions
---
TCNJ Orchestra
Auditions are scheduled (TBD) from 8:30 am – 7:30 pm in room 123 (Music Building)
To sign up please follow the link below and enter your name and instrument at a time that works for you.

For the audition prepare a portion of a solo piece (concerto, sonata or study piece) that represents your playing well (i.e. if you are familiar with higher positions don't play a piece that stays in first position). The selection has to be at least 3 minutes long.