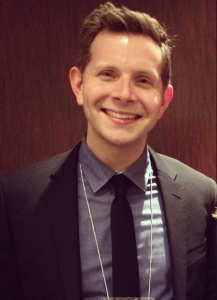 The Department of Music at The College of New Jersey is pleased to welcome Nicholas McBride to its faculty as Visiting Assistant Professor of Choral Music Education for the 2016-17 academic year.
McBride was previously an adjunct faculty member in Music Education at Rowan University, where he supervised senior-level student teachers and taught undergraduate music education courses. McBride has also been an Acting Assistant Professor at Westminster Choir College of Rider University and a choral director in several New Jersey public school districts.
McBride has a Dual Masters Degree in Music Education and Choral Conducting from Northwestern University, where he worked closely with Janet Barret in applying critical theory as a theoretical framework to investigate issues of gender stereotyping and marginalization of music teachers and music students. McBride is currently completing doctoral work in Music and Music Education at Columbia University Teachers College, where he is working under Randall Allsup. His dissertation research will focus on teacher identity formation in relation to marginalized populations – specifically members of the LGBT community – and the negotiation of gender discourse in choral classroom settings. His publications include Singing, Sissies, and Sexuality: How LGBT choral directors negotiate gender discourse (Music Educators Journal) and has made contributions to several books.
McBride was the Associate Conductor of Conservatory Youth Chorale with the Westminster Conservatory: Community School of Music, the Conductor of High School Choir Division with the Trenton Children's Choir, the Principal Music Director of the Westminster High School Music Theater Workshop, and the founder and Principal Music Director of the Westminster Middle School Theater Workshop.