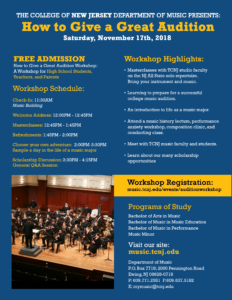 A Workshop for High School Students, Teachers, and Parents
Saturday, November 17, 2018
Registration: 11:30am
Workshop: 12:00pm-4:15pm
Free Admission
The Department of Music at The College of New Jersey will be holding our annual workshop, entitled "How to Give a Great Audition," on Saturday, November 17 from 12:00pm – 4:15pm.  This hands-on workshop is open to all high school students, as well as teachers and parents.
The information presented will be useful for students who plan to study music in college and classical music specifically. Activities will include discussions, demonstrations, break-out sessions, and a question-and-answer period with a panel of music professors. Over the course of the workshop, participants will learn about different types of schools and majors, what music departments are looking for in an audition, how to prepare, what to wear, and much more. In addition, there will be area-specific small group masterclasses. The Music faculty and students of TCNJ will be available for one-on-one conversations.
Workshop Includes:
New Jersey All-State/Region Audition Solo masterclasses. Bring your instrument, voice, and music!
Learning skills needed for a successful college music audition.
Valuable information on choosing a college music program.
Meeting with college faculty and students.
Location:
Department of Music (Music Building)
The College of New Jersey
2000 Pennington Road
Ewing, NJ 08628
Registration:
Registration is required and online only.  Please complete one form for each participant.

Deadline for registration is November 12.  This helps us identify faculty and instrumental needs in order to make this a successful event for our participants.
Lunch is not included.  We recommend remaining on campus and visiting the award-winning Atrium at Eickhoff.
For Further Assistance
Questions may be directed to: mymusic@tcnj.edu