2021 TCNJ FUTURE MUSIC EDUCATORS INSTITUTE
A One-Week Virtual Summer Program for High School students interested in becoming a Music Teacher/Conductor.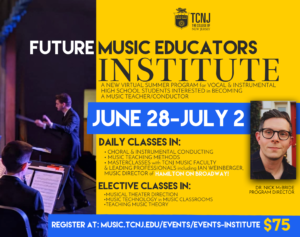 MONDAY, JUNE 28th – FRIDAY, JULY 2nd
Tentative Daily Hours: 10am – 2:30pm with a lunch break
On Zoom
PROGRAM OVERVIEW:
Daily Classes in: Music Teaching Methods, "The Art of Teaching Music," Choral & Instrumental Conducting.
Elective Classes in: Musical Theater Direction, Music Technology for the Music Classroom, and Teaching Music Theory.
Masterclass Sessions with: TCNJ's World-Renowned Music Artist Faculty, TCNJ Music Education Faculty, and Leading Teacher/Conducting Professionals, including Ian Weinberger, Music Director of Hamilton on Broadway!
FACULTY:
Dr. Nick McBride, Institute Director (https://music.tcnj.edu/dr-nicholas-mcbride/)
Dr. Eric Laprade, Conducting (https://music.tcnj.edu/eric-laprade/)
Dr. José Beviá, Musicianship (https://music.tcnj.edu/dr-jose-bevia/)
Ms. Susan Barry, Musical Theater (https://music.tcnj.edu/susan-barry/)
Additional faculty to be announced!
ENROLLMENT & TUITION:
Enrollment is open to students in grades 9-12, including rising 8th graders and seniors who have recently graduated from high school.The registration deadline is June 1st.
Tuition: $75
TCNJ has a limited amount of financial assistance available for students/families in need. If you need assistance paying the Summer Program fee, please contact Nick McBride at mcbriden@tcnj.edu
REGISTER: https://forms.gle/NuxcewxfsZq46avn8
QUESTIONS:
Please contact Dr. Nicholas McBride at mcbriden@tcnj.edu