The College of New Jersey invites the community to attend two musical events that are open and free to the public.
On Sunday, October 23rd, Jennifer Cooper and Masahito Sugihara, known as The Awea Duo, will give Masterclass Workshops for Flute and Saxophone players from 3:00-6:00 pm in the TCNJ Music Building. High School students are encouraged to attend and participate in these free sessions.
On Monday, October 24th, The AWEA Duo will give a free recital at 8:30 pm in the Mildred and Ernest E. Mayo Concert Hall. Click here for more information on The Awea Duo 
Master Class

Sunday, October 23, 2016
Music Building
3:00-6:00 pm

Recital 

Monday, October 24, 2016
Mildred and Ernest E. Mayo Concert Hall
8:30 pm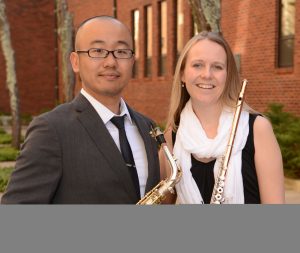 The Awea Duo
Jennifer Cooper, Flute
Masahito Sugihara, Saxophone
"How to Give a Great Audition Workshop" 
November 19, 2016,  10:00 am– 3:00 pm
Bring your instrument, voice, and music!

Workshop Includes:
New Jersey All-State/Region Audition Solo master classes.
Learning skills needed for a successful college music audition.
Valuable information on choosing a college music program.
Opportunity to meet with college faculty and students.
For more information visit: https://music.tcnj.edu/events/auditionworkshop/
Please click here to register for the workshop