Devices
A typical smartphone, or a computer with a built-in microphone and camera will suffice for
making a video with satisfactory visual and audio elements.
Camera Frame and Microphone Placement
Since in most cases, your camera and microphone are one device, you may need to experiment to
achieve the following results:
Visual elements
Your full instrument should be in the frame with a clear view of your hands and lips
Make sure to have adequate lighting while recording, no bright lights or bright windows in your background.
You may play standing or seated, as appropriate.
Applicants are encouraged to dress professionally for the audition videos.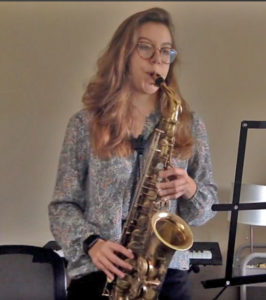 Audio Elements
A clear and un-distorted recording is your goal, if the sound is distorted, change the distance
or instrument orientation to the microphone, you may need to try another location in which to
make your recording.
Editing and recording "takes"
All Woodwind players are to make 3 separate, un-edited recordings: one recording for all of your scales, one for
your study (or etude), and one for your solo. Note: Please refer to the audition information page for your instrument for more specific requirements
Download "How To Record Your Audition" -Woodwinds
For questions or for more information about recording your audition, contact the Woodwinds area coordinator, Mr. David DiGiaccobbe digiacob@tcnj.edu