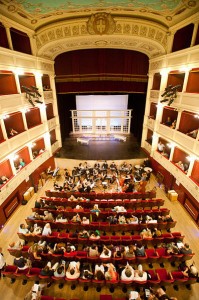 Senior Music Education Major, Diana Befi, was given the opportunity to further her studies abroad in Italy over this past summer.
The program that she participated in was run by Oberlin College and Conservatory, located in Ohio. Through this program, she was able to partake in coachings, master classes, and lessons. The facilities of the Università di Siena in Arezzo, Italy provided practice and academic space, where she and 60 other selected students partook in Italian classes for 15 hours a week in addition to music lessons and private study.
"Performing in Italy was an amazing experience," she said. "The people of Arezzo- where we performed the scenes with the Emerging Artist Program- and of Cortona- where we performed Puccini's La Rondine- were very appreciative of the arts."
Diana will be performing her Senior Recital as a requirement for her major this spring semester on Sunday April 19th at 4 pm. Be sure to come out and see her and the rest of our fantastic student performers on the Center for the Arts calendar here.
---
-Vincent Buzzelli