MUS 142
MUS 182 (non-music majors)
Director, Uli Speth, spethu@tcnj.edu, 609-771-2551
TCNJ Orchestra provides the opportunity to play the very best music from the symphonic repertoire. Members of the Orchestra continually discover an inspiring musical environment in which they can grow as musicians. During rehearsals, musicians can improve their ensemble-playing skills and instrumental technique, while developing a rich and meaningful relationship with the music.  In a culminating performance of the works, performers communicate their musical ideas and expression to an audience. The Orchestra is comprised of music majors, non-music majors, and community members.
---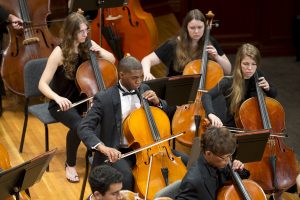 Meets: Wednesday
7:30-9:30pm
For questions on instrument rentals please contact Mark Kalinowski.
Our repertoire of previous concerts is provided below.
Repertoire List
---
Recent Events
Wednesday, November 14th, 2018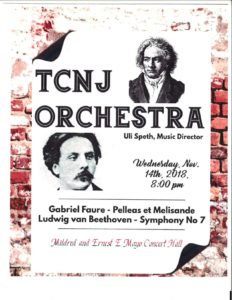 TCNJ Orchestra, consisting of music majors as well as non-majors and a handful of alumni, presented its annual Spring Concert on Wednesday, April 11.
Director Uli Speth titled the program "Bookends of Romanticism," because one the two pieces performed represented the beginning of the Romantic Era, while the other represented the end of the Romantic Era:
Franz Schubert – Symphony #1 (1813)
Composed when Schubert was a mere 16 years old, this piece reflects the Romantic Era in its infancy, as it still adheres closely in form to Classical traditions.  Symphony #1 provides a constant stream of beautiful musical ideas, featuring melodies that are elegant as well as exciting, making this a great experience for the musicians as well as the audience. Aside from some technical challenges, the most difficult aspect of playing this piece is bringing out the lightness of the music. The piece is not heard very often, and Speth selected it not only because it represents an early chapter in Romantic Era musical composition, but also because he considers it underrated and worthy of more attention.
Edward Elgar – Introduction and Allegro (Op. 47) (1905)
This piece debuted at a time when when popular works for string orchestra were rarely heard at symphony concerts, and when Romantic music had already seen its heyday. Trends of what would come to be known as the Modern Era were becoming noticeable in music. Introduction and Allegro demands a full string sound, reminiscent of the tradition of British string playing that is carried on by orchestras like Academy of St. Martin in the Fields. In composing the piece, Elgar intended it as a showcase of the players' virtuosity. On a technical level, the piece is rather complicated, as Elgar splits up the ensemble over 13 lines of the score, with four lines being taken by the principal string quartet. Although critics were not unanimously impressed by the piece when it debuted, its stature has grown since then, and it is now widely ranked as one of Elgar's masterpieces.